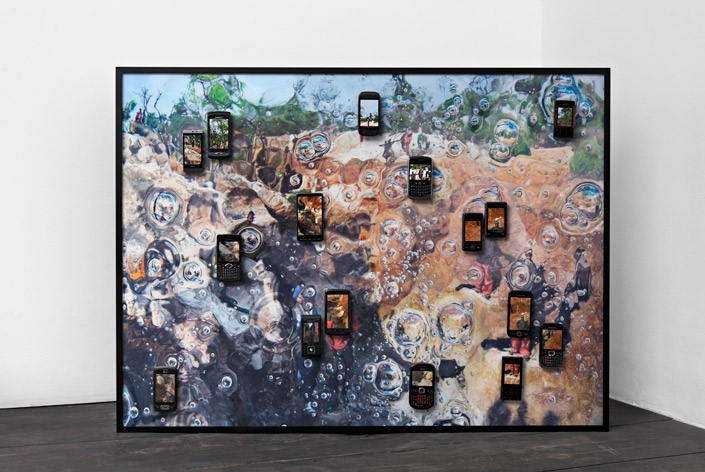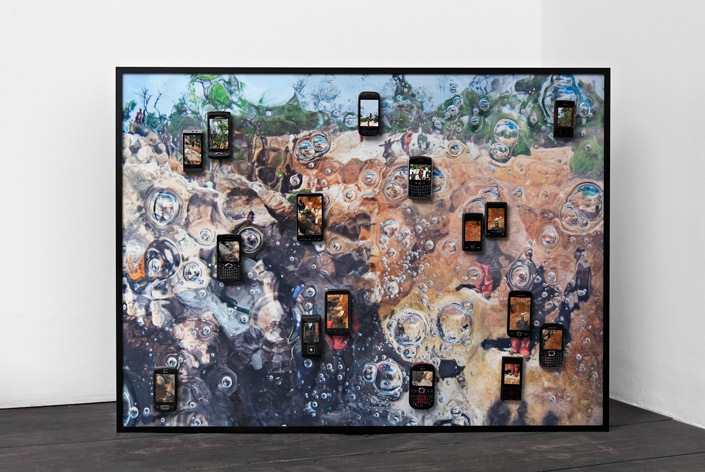 Katanga Bub
Artist: Anne de Vries
Year: 2011
Size: 35.43 x 56.69 inch
Material: Mobile devices glued on a light box displaying a press image of the Katanga mines in the Kongo, rephotographed under water.
The extreme ends of the mobile device industry are brought together in 'Katanga Bub'.
It is based on a press image depicting the landscape and workers of Katanga, in The Democratic Republic of Congo – an area mined for many minerals like tungsten and coltan, which have been crucial for the manufacture of mobile devices. For this work, the press image of the Katanga mines has been re-photographed underwater and set within a freestanding display unit. as water ripples and bubbles float over the surface, distort- ing the scene underneath, the screens of numerous mobile phones show clearer details of the same view of the Katanga mine. The elemental earthy origins of the mines are (re)connected with the liquefied luxuriance of global technology commodities and their marketing aesthetics, to express the easy exchange of information through these devices. This work fuses two opposing but connected ends of the story: on one hand, the mobile devices help spread knowledge and raise global awareness, with the false promise of engendering a better world. On the other hand, while the economy of "rare earth" props up the problematic social and political infrastructures of the Democratic Republic of Congo, it also reveals the recursive relationships between matter and information underwritten by the move from production to the product; from raw material to data generation.
Exhibition views from Trails Rising at Sandy Brown Gallery in Berlin, The Composing Rooms in London, and Treijac Project in France